Drake is still feeling some type of way after the beef with Meek Mill and he decided to incorporate it into his set at the OVO Fest held in Toronto last night.
He opened up his set with his diss tracks, "Charged Up" and "Back To Back" and did not stop there.  Drake incorporated some of his favorite memes dissing Meek Mill in the show on a projected back drop as he performed, as well as giving meek a verbal participation award and assuring his city he wouldn't let anyone disrespect them.  Check out some of the harsh memes below.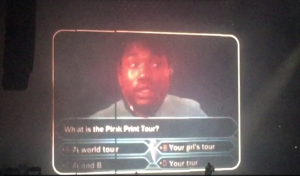 Prior to going on stage, Drake shared some of the memes he was going to project during his performance with Kanye West and Will Smith.
~ Plizzy
IG: @alexplizatt/Tweet: @PlizzyPlizatt