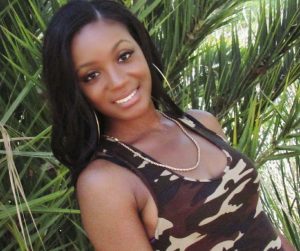 Tiffane Love is a up and coming singer, crowned as the "Female Tupac" at a young age by platinum producer Mike Mosely, and has opened up for a slew of notable artists in the Bay Area. Check it out below for an in depth interview on her music career, her upbringing, and her come up!
ABM: What is your artist name? Tell us the story behind your hip-hop name?
Tiffane Love: Tiffane Love, I have tons of meanings and reasons be hide the name. I am 2 steps ahead of people when it comes to the name. People think the name represents that I am a singer. They expect me to start singing because of the word Love, but instead I hit em with some flowz.  And suddenly, their taken back by surprise. I am an artist so my job is to create and think outside of the box. The example Tupac gave for the meaning of Thug life, The (Hate) You Give Little Infants Fucks Everyone, or The Rose That Grew From Concrete. It is a prime example of what my name stands for. You must learn and know how to love yourself first and foremost before anything. I have seen and have endured a lot of hardships growing up and still am to this day especially as a black woman. We are looked down upon, prejudged, ignored and so on and so forth. I always knew I had a gift, I felt that I was special and I always felt once the world heard me and heard my story, I would forever be Loved. Whatever it may be that I felt I didn't receive, one day it would finally come to me.
I grew up seeing my mother struggle to support our family without our father in the household, but she did one hell of a job if I must say. I come from a big family. My mom and dad are both married to each other. Although my dad is incarcerated and has been for the last 40 years. He was supposed to be out years ago which in fact gave my mother hope that he and her would go on to have a normal family once he got out, but the dates kept being taken back. My mom stood by his side his entire sentence. Never cheated on him. We never had any step father around. She was truly down for her family. Sadly, she got sick in 2014 and passed away before his release. (Rest in Peace Mama) So, seeing the love and the strength my mom had for the family seeing how she gave her entire life up for the family is a once in a lifetime type of love. Some people think it doesn't exist but it does. A Star was created out of that upbringing Me, Tiffane Love, I am this loveable, goofy person but at the same time I am very strong and independent. I am not walking around pushing people around, being a bully, starting up crap, I am defending and speaking up for myself and speaking up for others who are too ashamed or fearful to speak up about their trials and tribulations. God chose me to be the voice.
ABM: Has anything happened in your life that led to the decision of becoming a musician?
Tiffane Love: As a kid, I would make up a lot of my own songs, and would sing them while bathing. I would write funny stories for my classmates and would have the entire class cracking up. I was inspired by Tupac after I went into my older brother's room while he was not there and I would take certain rap CDs of his. I'd put them back after just how I found them, Haha. Some of the 2pac CDs he never got back and he would wonder what happened to his CDs, He was livid! I would also listen to Dr. Dre, Snoop Dogg, NWA, Janet Jackson, Spice Girls, and Britney Spears, growing up just to name a few.
As a kid, I related to Tupac the most. Growing up in a big family, (same mother, same father. I was just always quiet, like a deep thinker about things. But I loved to laugh, I laughed about everything! I had somewhat of a bubbly personality, even though some of my hardships tried to dim it. I began to stay to myself a lot of the time, once I began to see how much drama and trouble came to me by being around a lot of people especially people who did not have my best interest at heart. I was less fortunate, and skinny so people would pick on me a lot. I expressed how I truly felt through music and poetry.
ABM: How did you get your start in the hip hop scene?
Tiffane Love: Well, I started taking rap serious at the age of 16…I went by the name Young Felony. I connected with Mike Mosely, I did an interview with Xplosive Magazine. Mike discovered E40, B-Legit, TQ, C-BO, CellyCel and has worked with Tupac on pretty much every single album of his including All Eyez On Me, and Me Against the World to name a few. Mike seen my talent and knew I was destined to be a star. In fact, Mike would always call me The Female Tupac, he said I reminded him of Pac in many ways. DJ King Assassin also gave me a shout out on his Makaveli The Don, (The Way He Wanted It) Mixtape as The Female Pac in 2007.
I met and chopped it up with E40, He signed my first ever release, Heart Of A Lion released in 2005. I also had an article written on me by The Oakland Globe Newspaper in 2007. Ive had my song "Imma Boss" featured on a Bizzy Bone's Unsigned Hype compilation in 2008, Bizzy Bone is a member of the group Bone Thugz and Harmony. I've been building a career for quite some time now, but some people are not aware of that because of my stage name change, they think I am just now starting out.
ABM: Where are you from, and what was it like growing up there?
Tiffane Love: The 707, Fairfield, CA and Vacaville, CA, My Dad was transferred to the prison out in Vacaville. That is one reason my mom moved up there. My family is originally from the Los Angeles area. South Central, Compton, Carson areas. People think Vacaville is some nice ass town, in most parts yeah, but there is tons of trouble there also. Killings, robberies, drug activity, gang activity, and racial profiling ect. I had a very rough time growing up out there, being black, and less fortunate than most people who were coming from privileged families. I felt left out. I was teased and picked on a lot. I knew a bunch of people, I had a lot of friends, but most of the friendships were not genuine and led me into a lot of unwarranted trouble. My mom had me involved in cheerleading, gymnastics and track & field as a child, so I wanted to continue those paths in jr high and high school. I made the cheer team in 9th grade but had to sit out during practice and during the games because I did not maintain my grades at average or above so basically, I was labeled a failure and began hanging with the wrong crowd.
That's when I really began to write music and poetry, my first ever release" Heart Of A Lion" released in 2005 reflects the pain and hurt I endured during such times. My life was hard in every sense of the word. I feel like now that I am performing as an Artist I am making up for what I did not get a chance to do while in my teen years. I have always been very competitive even as a kid. I was a very fast runner, I did track & field, and all the boys would challenge me. So, still to this day it reflects me as a person. I am still hanging with the boys, we all know the rap world is male dominated.
ABM: What artists have you worked with? Who would you like to work with?
Tiffane Love: I have done a lot of live shows with tons of artist, too many to name. I've opened for, HD Of Bearfaced, Gully, Jstalin Mike Sherm, Ap9, to name a few. I am planning to make my next project solely collaborations with other upcoming and well known artist. I've been building myself as a solo artist, building my own wave, being as original, independent and as ready as I can be as I start to get deeper into the music world. Its all about leveling up. And making sure that YOU by yourself have a solid foundation to stand on, a strong backbone and knowledge of the game and knowledge of the business side of things.  I think a collaboration between me and Mozzy would be dope as fuck, Cellyru, E40, Drake, Snoop Dogg, Ice Cube. I think teaming up with other female rappers would be dope also, we are on the rise right now.
ABM: When are you dropping your next release?
Tiffane Love: I just released my newest project One Woman Army on 03/30/2017. Its available on CDbaby, Soundcloud, Audiomack, and will become available on many other websites and retailers such as Spinrilla Spotify, Googleplay, Itunes, Pandora, ect
Whats your last visual release people can check out, tell us about it.
my last visual was for my my single Act Up, I gets tons of love on it but at the same time, I get a hater or two once in a blue moon. It is what it is . I am gonna to continue to do what I gotta do. The song is basically telling anyone who is coming at me disrespectful, to back up before I act up, I am not the aggressor in the song. I am defending myself against those who may like to put women down and try to keep women down. Or those who are just flat out troublemakers. The video is on youtube just search Tiffane Love "Act Up" you will run into it.
ABM: What is your ultimate goal at the end of your career?
Tiffane Love: I would like to continue to get my voice heard and respected because I truly have a message to deliver. I didn't choose this. God has anointed me to do this. It is my calling. I am following wherever he leads me. If I blow up, it is destined, If I stay underground, it is destined, But I feel that I am meant to touch millions and billions of lives all over the world and at the end of my career I feel it will be accomplished. I will be very successful helping others to reach their goals and dreams.
ABM: Any business ventures or ideas you got in the works?
Tiffane Love: One thing I must stress is to make sure you have all your business dealings in writing. Keep record of text messages about the business dealings. Make sure there is contracts, paperwork involved, being signed. This is a shiesty game and people will try to get over on you or take advantage of you. Copyright all your work! I am about to drop 3 more visuals for my singles Woke Up, Like I Do and Stay Out Ya Feelins. I am in talks right now about going on tour with DJ Spazz".  I will release more information about that soon., DJ Spazz is the tour DJ for Coke boys, Coke boys were founded by French Montana. Dj Spazz is hosting my current release right now "One Woman Army" He is very professional and has never made me feel uncomfortable. As a woman in this industry you must carry yourself with self-respect, and pass up any opportunities if you feel disrespected or taken advantage of. GOD has something better in store for you. You don't always have to be in the limelight or #1 all the time if it means you're gonna be disrespected as a woman to be there. if you are in the limelight or #1 let it be because you truly earned it from your hard work.
ABM: Who is the most impactful artist in your life who has inspired you and why?
Tiffane Love: Obviously, Tupac Shakur, just because I feel we have similar upbringings and we both respond exactly alike to certain situations. Also Beyoncé, I love the message she sends that women can be just as or even more successful than a man. And you can be married and or be a mother and still have a career and be successful at it all.
ABM: How can people find you?
Tiffane Love:
Twitter- ItsTiffaneLove
Instagram Its_Tiffane_Love
Tiffanelove707@gmail.com