TayzerThaAmazer is a San Diego artist and femcee, who bar-for-bar has a distinct delivery and wordplay that I wouldn't question her if she stated she was one of the hottest out of her city. Read up on her upbringing in San Diego, and how she writes her rhymes based on her life story she penned from her diary. Very cool story indeed!
ABM: What is your Rap name? Tell us the story behind your hip-hop name?
TayzerThaAmazer: TayzerThaAmazer (all one word). I got the name Tay from my dad as a teenager. I added Tayzer the Amazer when I was about 24, I'm 31 now. I just had this thing over me that I was tayzing chicks with my words and it felt amazing, and I amaze people all the time, so I stuck with it.
ABM: Has anything happened in your life that led to the decision of becoming a musician?
TayzerThaAmazer: I became a musician when I was 18 years old. I was doing music with this guy named Temp. We was kind of a duet type, but we never had a name, but eventually he ended up stealing all the music from me and moved. I then had quit. I figured maybe it wasn't for me, but just 2 years ago I got back into the music with my little brother Purpos and cousin Romey Rome, we formed a group called "dyffrentmindsetz".
ABM: How did you get your start in the hip hop scene?
TayzerThaAmazer: I got my start in the hip hop scene from writing love poetry. I started rapping because I wasn't a very good singer, although I can hold a tone or two, but not enough to make an album lol. Over all I listen to alot of music day and night I never was big on t.v. unless it was music video. I was inspired by Twista and Do or Die with my fast flows.
ABM: Where are you from, and what was it like growing up there?
TayzerThaAmazer: I'm from San Diego California. I grew up in spring valley eventually moved after high school. It wasn't real bad but very racist with blacks vs Mexicans everyday. On top trying to weave through the streets of gangbanger and drugs infested neighborhoods, I did have it hard living with 9 other kids in a 3 bedroom house. My grandmother raised me and my cousins for the most part, our parents were absent, they were hit really hard back in the crack epidemic in the 80's and 90's.
ABM: What do you typically rap about?
TayzerThaAmazer: I normally rap about getting at a chick, but I'm really versatile. I like to touch all avenues and not be on the same subject. My L.P. is actual events that I have personally been through, that I use to write in my personal log and me fighting with myself trying to figure out who I really was.
ABM: What are your last full length releases people can go check out right now?
TayzerThaAmazer: Therapy Log Bipolar Issues is my actual first full release as a solo artist  (available on all digital networks May 3 2017). I do have music with dyffrentmindsetz but we never pushed it as far as we should have, but alot of my music can be found on Soundcloud under Dyffrent and TayzerThaAmazer.
ABM: What are you currently working on?
TayzerThaAmazer: I'm currently working on my Second Therapy Log, it's a little bit more slow pace than this one, a lot more feelings involved, and more deep into my journal and personal life.
ABM: Whats your last visual release people can check out, tell us about it.
TayzerThaAmazer: My last visual is called "More Than Just Friends" feat. Chelly Jane. It basically talks about me meeting a chick and we became friends an eventually start liking each other more but kinda scared to say but we both feel the same way. You can also buy it on iTunes.
ABM: What is your ultimate goal at the end of your career?
TayzerThaAmazer: At the end of my career, I want to own my own label and help develop upcoming artists to become like me, if not better. I have patience in working with new talent, so that's what I'm gonna do. Give back to my community by opening up a shelter for homeless men and women, especially the ones with kids. Also, to take care of my family.
ABM: How can people reach you?
TayzerThaAmazer: People can reach me  by email – Mtayzer@gmail.com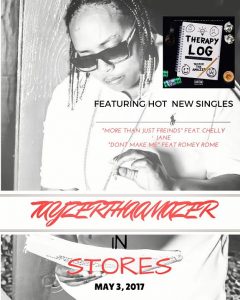 Facebook | Twitter | Instagram | Soundcloud | YouTube – TayzerThaAmazer