My fellow sneakerheads: there's a new invention that'll send your addiction into high gear. Introducing the HUV Hover Display.
This project was started with sneakerhead needs in mind. The HUV team began with two guys trying to change the world visually, artistically, and aesthetically. The HUV Hover Display is exactly what it sounds like. It lets whatever you decide to put it on it to hover beautifully, giving a perfect 360 degree view of gorgeousness. It is created with a black magnetic base and a magnetic dial on which your treasures will sit. That being said, it's best not to place anything metal on this display.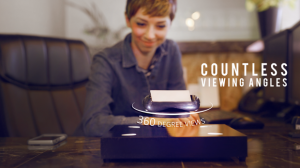 Learn more and get yours now, as these things will soon be everywhere and thus become less and less attractive because, c'mon, we all like being exclusive.
sneakerhead  /snē-kər-hed/ (n.): A person who collects limited, rare, OG or other exclusive kicks. Usually the collection consists of, but not limited to, Jordans or Dunks.