Meet the 10 hand picked models, all local Bay Area women striving for excellence! You may pick three in the voting process by CLICKING HERE, once you select your choices you must enter your email in and click the submit button!
Navaeh Cai
Instagram: @navaeh.c
Navaeh, from Oakland, is just 18 and she just recently started getting serious about modeling. She models because it is what makes her happy and is one of her passions that she would love to pursue and one day support herself from.  She likes to listen to Bay Area artists P Lo, Kool John, and Mally Mall.
Sheila
Instagram: @sheilabauzon
Sheila, 21 from Richmond, has been modeling for 2 years. She loves to perform and entertain, so she started modeling.  She has aspirations to start doing more in the entertainment business.  Sheila likes to listen to IamSu, E-40, and Mac Dre, which reflects her turn up.
Nani Harrison
Instagram: @naniharrisonnn
Nani is 20 years old, living in San francisco, and has been freelance modeling for 2 years now.  She first started modeling because she always idolized the models she saw growing up.  She was thrown off by the rumors and stereo types with modeling, however she realized that she enjoys being a role model for girls who don't fit the stereo type.  Nani listens to Khelani, Drake, and The Weekend, however she enjoys listening to a lot of old school R&B like Donell Jones, Like Joe, and Color Me Bad.
Kianna Louie
Instagram: @kiana_lynnn
Kianna, 21 out of San Francisco, has been modeling for 2 years on and off, until she started to model for car shows. She models, not to grab attention from people and have the title, but to show that you have a passion for showing who you are. She's always had an eye for cars and that led her to model for a car crew. She also models because she has passion for modeling into making videos in the future. Her favorite hip hop artists are G-Eazy, LoveRance, and Iamsu.
Tyler Scott
Instagram: @Jhai_lee
Tyler is 19 and is from Berkeley, she has been getting more serious about modeling in the last year because she enjoys it and she is interested where it will take her.  Tyler's favorite hip hop artists are Kendrick Lamar, Mac Dre, and Drake.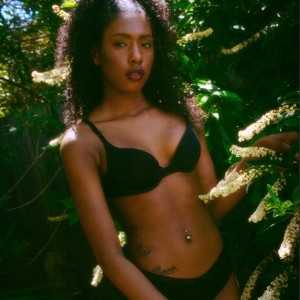 Saunsu
Instagram: @saunsu_
Montia Saunsu Starks, 20 year old model from the Bay Area, started modeling because it was a way for her to express her femininity. Growing up she dealt with a lot of stereotypes just like many other girls, either being too skinny or not having the fashionable skin tone that was trending at the time. Modeling gives her an outlet and allows her to show other girls how to have courage in their own skin. She believes beauty comes in different shapes, and ethnic backgrounds and this is her way of promoting this idea.  Her favorite hip hop artists are HBK CJ, E40, and Trey Songs.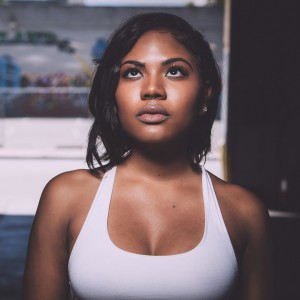 Devin Brooks
Instagram: @_devinbrooks
Devin, from Oakland, is 19 and has only been modeling for a year.  She started modeling because it gives her something to strive for and put her mind to.  she also like that she can put her ideas to life within a photo shoot, and modeling is something she can constantly progress in.  Her three favorite hip hop artists are Future, project poppa, and Fetty Wap.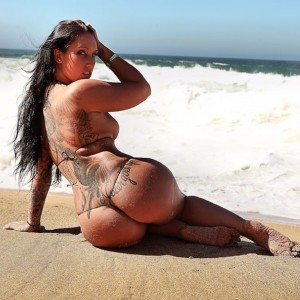 Genivieve
Instagram: @misgenevieve
Genivieve, out of Vacaville, has been modeling for
8yrs.  She started because someone at Harley Davidson asked her to do a calendar shoot.  She enjoys creating something from her modeling and the creative input she has in it, regardless of the ups and downs of the industry. Her top three favorite hip hop artist are, Raven Justice, The Jacka, and E40.
Cesily
Instagram: @cesilskylopez
Cesily is 25, out of Santa Clara, she started modeling for fun and she likes that modeling gives her a reason to go to cool places.  She also like progressing and she is excited to see where it takes her.  Her three favorite hip hop artists are Tupac, Fetty Wap, and G-Eazy.
Lalah, 19,  is from Oakland and believes that her dedication to her passions will lead her to have a lot of success in the future.  She puts God first and is all about her family.  Lalah's favorite hip hop artists are Too Short, YG, and Lil Boosie.